Cooking up treats with French and Chinese characteristics
【Food】
Time:2023-04-28 Source:China Daily Views:7656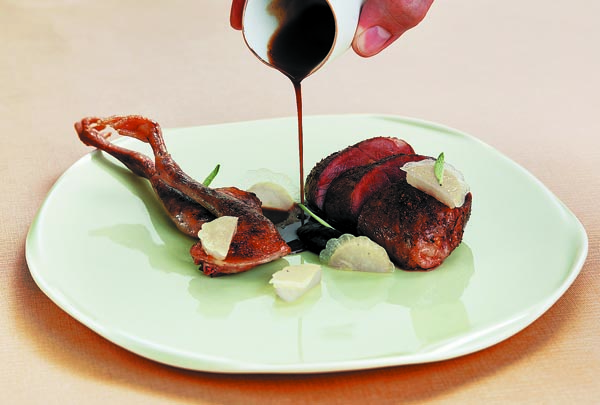 Le Pigeon is one of the signature dishes of Phenix.
One of the signature dishes of French cuisine in the Phenix in The PuLi Hotel and Spa, Shanghai, is Le Pigeon. As the name suggests, it has pigeon, foie gras, salsify and shiso. It is highly praised by customers and recommended by the chef.
The executive chef of Phenix, Ugo Rinaldo, says the pigeon from Guangdong province makes the dish a unique cohesion between traditional French and Chinese recipes, which is also a feature of the restaurant that has been awarded one Michelin Star for the seventh consecutive year.
"The pigeon is a local product cooked in a French style that is used for foie gras. Then we have a Chinese sweet plum sauce, very similar to a French sweet plum. There is really a cohesion between what people will expect in a French restaurant but putting in local ingredients," says Rinaldo, who joined the restaurant in 2021.
This commitment to the fine, fresh and good quality ingredients is not only the top mission of the restaurant, which opened in 2016, but also at the foundation Rinaldo's cuisine philosophy, according to the chef.
Besides appreciating the support from customers and also the challenges over last year, Rinaldo also sees changes ahead.
"We can see the trend of the Michelin-Starred restaurant has changed over the years in Shanghai.
"The city has a European way; there is also a mix of concepts," Rinaldo says.
Ugo Rinaldo, executive chef of Phenix in The PuLi Hotel and Spa.
Born in Paris, Rinaldo's first kitchen was in 1999 at the Michelin Star restaurant La Barbacane in the fortified city of Carcassonne in southern France.
After that Rinaldo joined the three-Michelin-Star restaurant Le Louis XV in Monaco, before relocating to Paris to join the team of the restaurant Le 59 Poincare.
In 2013, he took over Yannick Alleno's Beijing restaurant and arrived in Shanghai, after three years at MGM Cotai in Macao, to commence his tenure at The PuLi Hotel and Spa as executive chef.
"While I was working in France, I got the chance to learn from some of the best restaurants and discover the richness of French gastronomy being executed at the highest level. My span of learning ranged from classic Parisian cuisine to refreshing French Riviera cuisine and to those of Nice and Monaco. Such wealth of experience helped me tremendously in my career overseas," Rinaldo says.
Rinaldo believes that any chef that is passionate and working out of their own country should always be interested in local culture. Consequently, he explores food and culture with his local team.
"We always go to the market to see the products in season. We try Chinese restaurants, then we can understand what people like and how Chinese chefs are developing those products," Rinaldo says, adding that he also goes to the markets at least once a week and enjoys talking with vendors. To better integrate French dishes into local culture, about 70 percent of the ingredients in the restaurant are from local sources.
"When we build the menu, it's of course to choose local ingredients, but what we focus on is really taking the best ingredients, whether local or imported, so we have a balance," Rinaldo says. They import specialty ingredients, such as blue lobster from France and Australian beef.
"To do 100 percent local products for a Western restaurant for me is risky and also is not fair for some guests," Rinaldo adds. "At least when people come to a French restaurant, they can have an experience like they are in France."
According to Rinaldo, the restaurant's menu does seasonal changes but will also keep a part of their signature dishes.
"Shanghai's food and beverage industry was already a booming market three years ago, with many restaurants opening or had planned to open," Rinaldo says.
"I think now people are definitely back and our restaurant is full every day."