Young woman becomes online hit by turning old objects into art works
Lin Xi, a woman born after 1995, disassembles items people no longer use and then puts the parts together in one frame, turning old objects into exquisite works of art that remind people of their past.
Lin began doing this in 2019, and has so far disassembled hundreds of cellphones, including first-generation iPhones and Motorola cellphones made in the 1970s, as well as cameras, game consoles, and items that have special significance for their owners. To date, she has gained 2 million followers across various platforms through showcasing her skills on videos.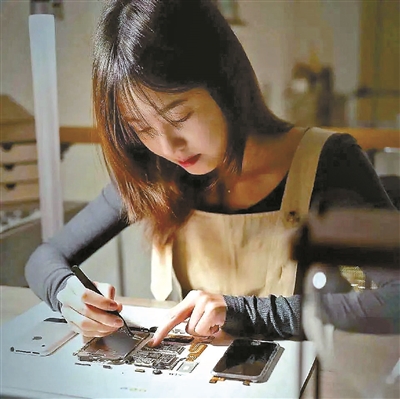 Photo shows Lin Xi disassembling a cellphone. (Beijing Youth Daily/Photo courtesy of Lin Xi)
A surgeon once sent Lin a pair of surgical scissors in the hope that she could frame them for him. The doctor had won the scissors as a prize in a medical competition, and cherished them so much that he never even used them.
"For the doctor, the scissors were not only a symbol of honor, but also reminded him of an important moment in his professional career," Lin said.
Lin learned the Turkish language at the Beijing Foreign Studies University and went on to pursue graduate studies in journalism and communications at a university in the UK. Before her current job, she had been a travel vlogger and worked for a TV station.
During a visit to a museum in Japan in 2019, Lin was impressed by how beautifully the disassembled parts of a lamp were arranged in a frame, and later thought she might try her luck at the craft.
Lin Xi hangs a work she has completed on the wall. (Beijing Youth Daily/Photo courtesy of Lin Xi)
Lin honed her skills by deconstructing her old items while following the instructions provided by tutorial videos. She also designed all the layouts for her works.
After Lin released videos of her disassembling old objects and then arranging the separate parts in one frame on her social media accounts, interest in her craft rose sharply.
She then posted five samples of the framed works online and received over 200 orders in just a few days, then spent half a year working on them.
To deconstruct an object, Lin first takes it apart, discarding the parts that might affect the visual effect of the final work, while keeping those she thinks can add to its beauty.
She then washes the selected spare parts in an ultrasonic cleaner, dries them, puts them on a piece of white paper on which she draws a layout, prints the final version of the layout, sticks the spare parts on the background surface and then frames the work.
Lin said her clients include tech fans who hope to use spare cellphone parts to show the evolution of technology and also those who want to preserve their past memories.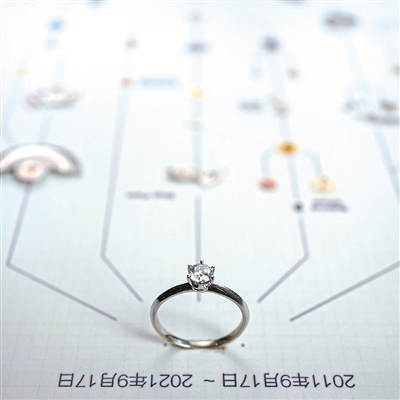 Photo shows a work of Lin Xi. (Beijing Youth Daily/Photo courtesy of Lin Xi)
Lin charges between 598 yuan ($86.64) and 3,000 yuan for dismantling an old object and framing its spare parts. "I can complete 10 orders a month, and I now have three other designers working for me at my studio," said Lin, whose studio employs 20 staff members.
"Disassembling old objects and framing the separate spare parts is not something new, as many influential science bloggers made their own works long ago. Although I'm not the first one to do this, I did turn the craft into a business," Lin said.
In 2021, a man asked Lin to dismantle a watch and arrange the spare parts together with a diamond in one frame. He told Lin that his wife had died in their 10th year of marriage and he wanted to commemorate their love this way. He also asked Lin to set the watch display at 11:45, the time his wife passed away.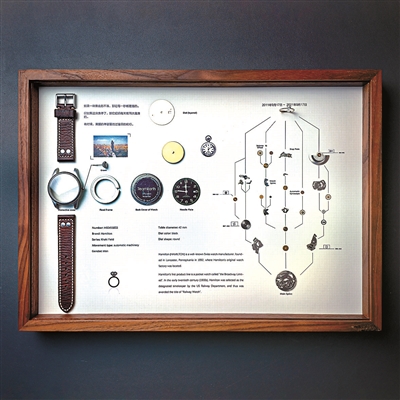 Photo shows a work of Lin Xi. (Beijing Youth Daily/Photo courtesy of Lin Xi)
The work that Lin eventually made resembled a tree of life, which symbolized love with the diamond as a part of it. "My clients are emotionally attached to objects they previously used and are unwilling to say goodbye to them or their past memories, and want to preserve these memories through my efforts. They want to turn a happy or sad moment in their lives into something they can always see and touch," said Lin.
Time:2023-05-24 admin:China culture Views:7494