The 6th China-ASEAN Youth Symposium Held in Beijing
【Dialogue】
Time:2023-05-22 Source:本站 Views:33
From 18 to 21 May, the 6th China-ASEAN Youth Symposium was held at Peking University under the guidance of the Institute of Area Studies of Peking University, organized by the Southeast Asian Association of Peking University and Boya Group Pte Ltd, and supported by the Center for International Cultural Communication of China International Communications Group, the ASEAN Foundation and Business China.
In his speech, Mr Shi Zhongjun, Secretary General of the ASEAN- China Centre, affirmed the role of the China-ASEAN Youth Symposium, saying that it provides a good platform for young people from China and ASEAN countries to engage in constructive dialogue on regional affairs. Shi Zhongjun stressed the importance of strengthening practical cooperation and humanistic exchanges between ASEAN and China, and pointed out that the younger generation will be the main promoters of China-ASEAN cooperation, hoping that the delegates would make full use of this valuable opportunity for communication and exchange.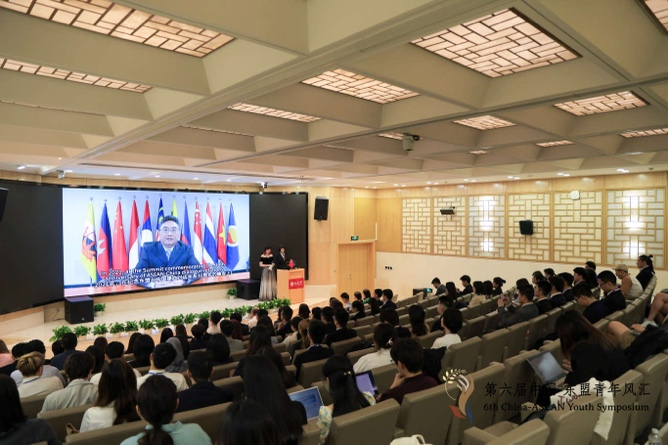 In her speech, Chinese Ambassador to ASEAN Hou Yanqi said that China-ASEAN has made important contributions to regional peace, stability and prosperity through solidarity and cooperation and expanding economic and trade cooperation in the face of changes in the international and regional situation, epidemics and other risks. She stressed the important role of the younger generation in China-ASEAN relations and encouraged young people to actively promote humanistic exchanges and inject vitality into China-ASEAN relations.
In his opening speech, Vice-Principal Sun Qingwei noted that he hoped the young people would be diligent in their studies, apply their knowledge, be open and tolerant, seek common ground while reserving differences, place equal emphasis on learning and practice, and hone their ambition. Sun Qingwei encouraged the young people from China-ASEAN to learn more, ask more and understand more in a solid manner, and while studying, try to put forward their own insights and contribute to the strengthening of Southeast Asian studies. Young delegates from different countries should be tolerant and future-oriented, seek consensus amidst differences with sincere communication, selfless sharing and harmonious discussions, and be the inheritors of friendly relations and the forerunners of cooperation.
Liu Ruiqi, founder of Hengyuanxiang Group and Chairman of Boya Group Pte Ltd, emphasised the importance of cultural research, saying that Boya Group Pte Ltd and Hengyuanxiang Group attach great importance to cultural research, insist on theoretical exploration and business practice of cultural brands, and strongly support the organisation of cultural exchange activities. He encouraged China-ASEAN youth to make friends, embrace diverse cultures and contribute to the promotion of cultural exchange.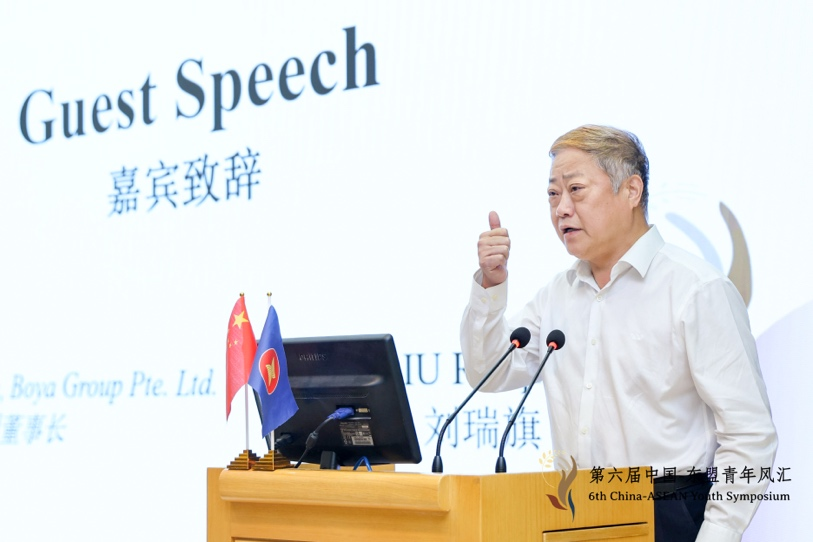 The opening ceremony invited Ning Jingjing from Research and Planning Department of the Center for International Cultural Communication of China International Communications Group, and Yang Tirong, Postdoctoral Fellow of the Institute of Regional and Country Studies of Peking University, to participate in a roundtable forum. The theme of the roundtable was "China-ASEAN Higher Education Cooperation – Past Efforts and Future Prospects". The two guests discussed how to eliminate the differences in educational standards in multilateral education cooperation projects and the opportunities for multilateral cooperation after the epidemic, looking into the future of China-ASEAN regional education cooperation and emphasising the importance of innovation.
The China-ASEAN youth delegates visited the AIIB, the China-ASEAN Centre, the Philippine Embassy in China and the China International Communications Group after the opening ceremony.
The 6th China-ASEAN Youth Symposium is a four-day event that invites 141 youth delegates from China-ASEAN universities to simulate an ASEAN conference series and discuss important topics such as transnational crime, preventive diplomacy, peace and security in the Asia-Pacific region, and the digital transformation of finance.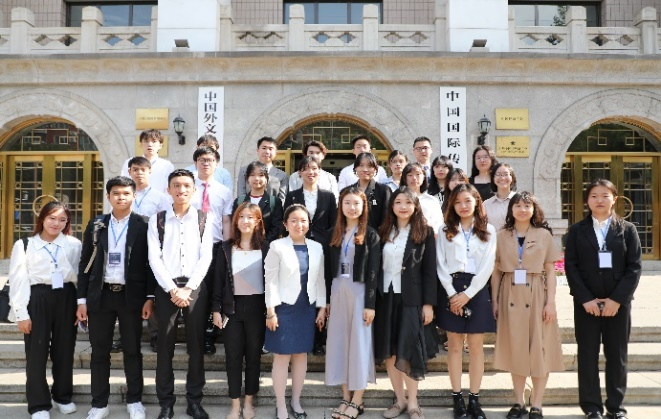 As one of the supporters of the event, the Center for International Cultural Communication of China International Communications Group will work together with universities and cultural institutions in the China-ASEAN region to build a platform and gather wisdom for China-ASEAN youth cultural exchanges, and gather strength for the people of both sides to deepen friendship and build consensus. With the vision of building a shared future for China and ASEAN countries and creating a more prosperous and better region and world, we will move forward hand in hand to draw a better blueprint for China-ASEAN exchanges and cooperation.