China achieves major headway with nation's first deep-sea wind power site
【Innovation】
Time:2023-05-15 Source:China Daily Views:30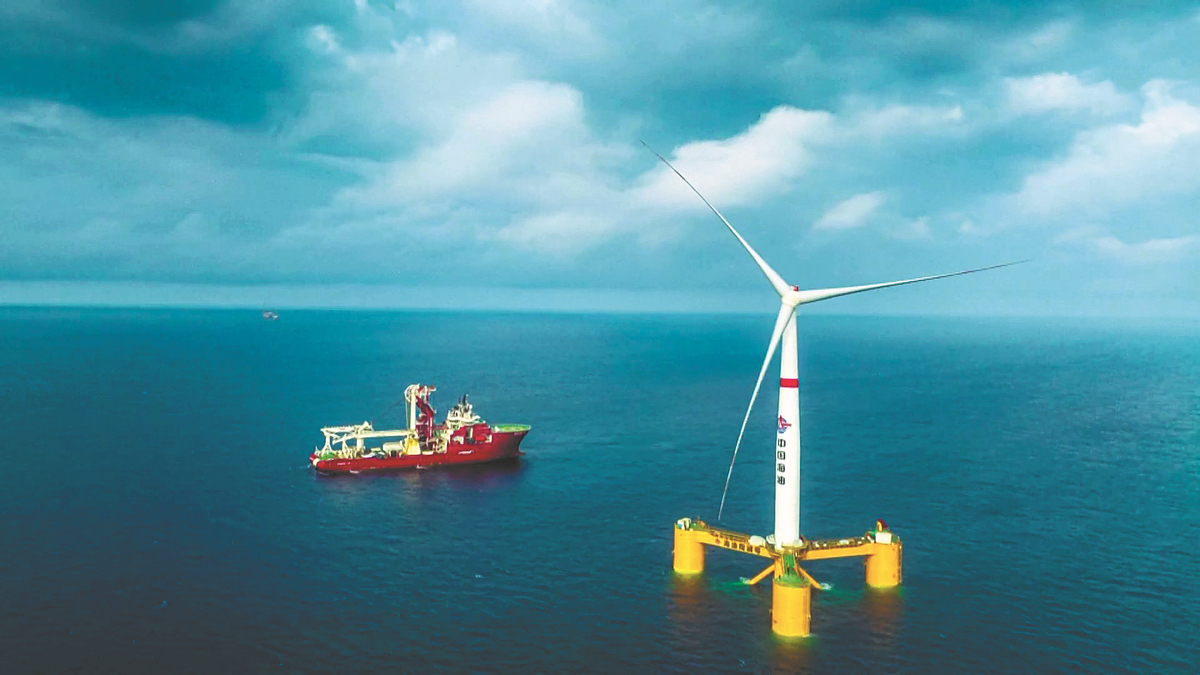 CNOOC Guanlan, literally "watching waves", is China's first offshore deep-sea wind power project. CHINA DAILY
China's first deep-sea floating wind power platform, which is expected to be put into operation by the end of May, marks significant progress in China's key technological advancement in deep-sea floating wind power, industry experts said.
Offshore construction of China's first deep-sea floating wind power platform has been completed and ready to be put into operation by the end of this month, after the 5-kilometer underwater cable was successfully laid on Saturday, said its operator China National Offshore Oil Corp.
Installed in an offshore oil field located 136 kilometers from Wenchang, Hainan province, the platform — CNOOC Guanlan, literally "watching waves" — is China's first offshore deep-sea wind power project, it said. After the project is put into operation, the electricity generated will be connected to the power grid of the offshore oilfield group for oil and gas production, with an annual power generation capacity of 22 million kilowatt-hours, equivalent to nearly 10 million cubic meters of natural gas and reducing carbon dioxide emissions by 22,000 metric tons per year, said the company.
An analyst said the platform will lay a solid foundation for the development of China's wind power from shallow to deep-sea deployment. "The operation of the platform will be a critical step toward a green energy era in offshore oil and gas development," said Lin Boqiang, head of the China Institute for Studies in Energy Policy at Xiamen University.
China's marine economy, especially the offshore oil and gas sectors, has been posting strong recovery momentum in recent years amid pro-growth policy support, Lin said. According to the Ministry of Natural Resources, China's gross marine product grew 5.1 percent year-on-year to 2.3 trillion yuan ($332.78 billion) in the first quarter, accounting for 8.2 percent of the GDP. Meanwhile, output of offshore crude oil and natural gas increased 3.8 percent and 6.5 percent year-on-year, respectively, it said.
The traditional marine industry has seen steady development in the first three months, supporting a rebound of the marine economy, and upward momentum of the sector is expected to continue in the second quarter as policy effects will be more visible and industrial transformation and upgrading will pick up pace, said Cui Xiaojian, deputy director of the National Marine Data and Information Service. Li Mao, deputy Party secretary of CNOOC's Zhanjiang branch in Guangdong province, said the operation of the project is a pioneering effort to promote the optimization of clean energy structures in deep-sea exploration. This will enable more effective utilization of oil and gas resources while promoting the transition of energy structures toward cleaner and lower-carbon emissions, Li said.