Tourists hit the road with recreational vehicles
【Innovation】
Time:2023-05-12 Source:Beijing Review Views:44
Yu Litang, a recreational vehicle (RV) enthusiast from Beijing, took his first trip in an RV 10 years ago and has since owned three of them.
"I've become used to the lifestyle of having my home set up in different landscapes," Yu said after recently completing a 9,800-km drive in 48 days.
More and more Chinese are taking up an RV lifestyle but the activity still faces limitations including insufficient campsites, parking difficulties and a lack of industry planning.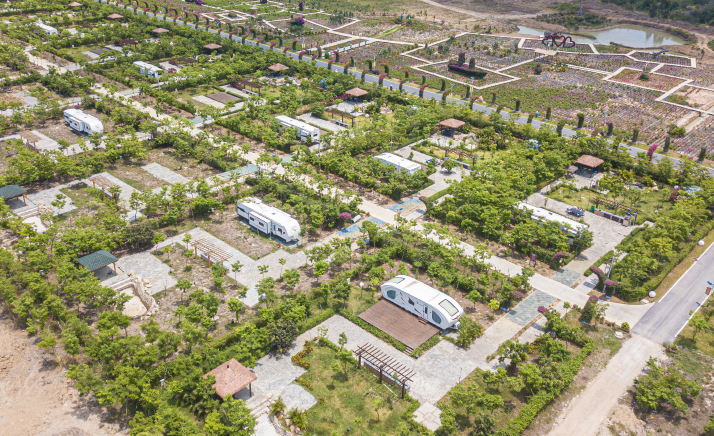 A growing market
"RV travel combines all my daily necessities with beautiful views, making me feel both 'in my life' and on the road," thirtysomething Cui Yan from Jiaozuo in Henan Province shared on social media after a nine-day RV trip.
"For travelers, RVs are not only a means of transport and accommodation, but also provide an indispensable sense of security that allows us to enjoy the scenery and explore unknown parts of the world," Cui said.
A report released in April by Trip.com Group, a Chinese online travel agency, showed that since March, the number of camping bookings has increased 150 percent year on year. "We now see many kinds of RVs on highways, around scenic spots and even in residential communities. As the idea of traveling in RVs has only recently gained popularity in China, the market is still in a state of development," Dai Bin, President of the China Tourism Academy, said in an interview with Economic Daily.
According to Dai, China's tourism industry is entering a new stage of development in which tourists are looking for more diverse and individualized experiences. In particular, family-friendly travel and road trips have become more popular, adding to the interest in RV holidays.
Langtuteng, a travel agency based in Mudanjiang, Heilongjiang Province in the northeast, has purchased 100 RVs since 2019 to offer RV rental and RV group tours in Qinghai and Gansu provinces and Xinjiang Uygur Autonomous Region in northwest China.
"Scenic spots are far apart in northwest China, so tourists are looking for a comfortable way to travel between them. That's where RVs are at an advantage," Wang Yankun, founder of Langtuteng, told Economic Daily. According to him, consumers becoming more familiar with RVs has led to the development of small-group RV travel.
"RV rental prices are rising by 5-10 percent this year," Wang said, adding that since March, the company has designed a dozen new travel itineraries and launched a number of pre-sale promotional events targeting the summer travel season. Sales revenue has already exceeded 5 million yuan ($722,543) this year, 110 percent of the figure for the same period in 2019.
Online travel platforms are also attracted to the rapidly growing RV travel market. In late 2022, Alibaba's online travel branch Fliggy, in cooperation with Langtuteng and other RV rental companies, launched a campaign allowing tourists to rent an RV for 1 yuan ($0.14) for up to 20 days from and to designated points. "Turning the return routes of RVs into 'free' RV travel routes, the campaign both cuts costs for RV rental businesses and benefits consumers," Wang said.
The growing RV travel market has also boosted sales of the vehicles. Wang Kai, Chairman of Shunyu RV Equipment Co. Ltd., in Suizhou, Hubei Province, said that as of March 10, the company had sold 245 RVs this year, with a value of 143.85 million yuan ($20.79 million), soaring by 299.5 percent year on year.
"By late 2022, the number of RVs in China had surpassed 240,000, rising from just 30,000 in 2015," Wang Kai said. At the end of last year, China had more than 200 qualified RV
manufacturers, some of which had built strong competitive advantages in core technologies and research and development—suggesting the RV industry have a promising future.
Necessary improvements
As RV travel becomes increasingly popular, the industry is also facing problems, especially the inadequacy of campsites. Wang Yankun said he believes this is a major factor impeding the rapid development of RV travel. Currently, the supply chain of RV campsites is not yet well developed, the quality of existing sites is uneven and many potential consumers are concerned they may face difficulty finding places to stop for the night.
"Since long-distance travel has become popular again, the demand for RV travel is resuming growth," said Li Xinjian, Executive Dean of the Capital Cultural and Tourism Development Institute of Beijing International Studies University. He added that this year RV travel will witness a recovery following China's adjustment of its COVID-19 control measures in late 2022, but services offered to RV travelers have yet to be improved.
Dai said another constraint on the RV market is their travel on roads. Clear rules need to be established for the management of RVs, including trailers and the licensing of drivers. In addition, suitable destinations and routes are still being explored by tourists themselves.
Li said the prospects of RV travel depend on whether the market can provide attractive routes, well-equipped campsites, diverse supporting services and a convenient rental system. "There is still a lot of room for improvement in the development of RV rental platforms, rental convenience and navigation services," he said.
In November 2022, the Ministry of Culture and Tourism and 13 other central government departments jointly issued a guideline on fostering the development of camping tourism, highlighting public campsite construction and service improvements.
"As long as supporting facilities and services are well developed, the full demand for RV travel will be unleashed and the industry will grow rapidly," Li said.