An emerging research hub
【Top News】
Time:2023-05-24 Source:Beijing Review Views:17
China is now the center of global attraction for science and technology innovation and is a great example for others of a country's magical development in a short time. While talking about China and its recent progress, I usually describe this country as a global hub of research and education, an attractive place to pursue a career, and a place with a variety of foods to enjoy. Based on its rapid economic progress and advances in science and technology, China is the future of Asia.
My journey in China began in 2009, initially as a visiting scholar and then as a Ph.D. student. The village where I was born and grew up is Dingla, which is located in the Arun Valley in the northeastern part of Nepal. Every morning, from home, I saw the beautiful view of Mount Makalu in the north, along the Himalayas that border China's Tibet Autonomous Region. My child's mind was often curious: What is on the northern slopes? I knew nothing about it, except that one of the biggest rivers in Nepal, the Arun, originates in Tibet. This confirmed that we are close neighbors and connected naturally, geologically and culturally, using fresh water from the same source for our livelihoods.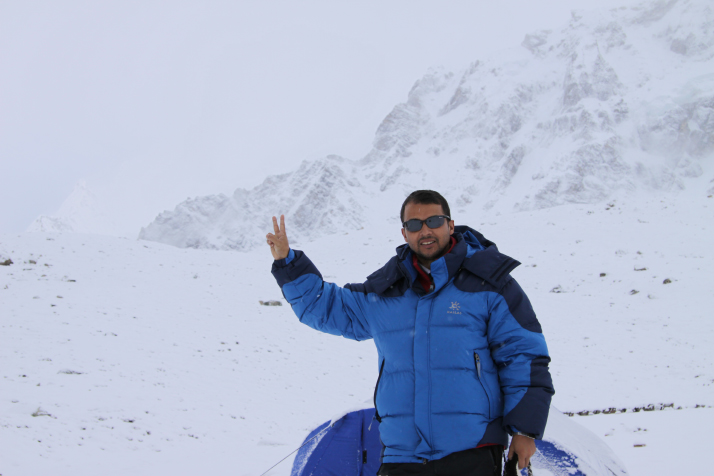 In 2009, I crossed the Himalayas. Taking a one-hour flight from Kathmandu to Lhasa in Tibet, I caught my first glimpses of the beautiful plateau that not only drives the South Asian climate system but also the northern hemispheric and global climate systems. In the face of accelerating climate change, China has made considerable progress in ecological and environmental protection in the Qinghai-Tibet Plateau region. These efforts contribute to increasing grassland and wetland areas on the plateau and protecting the regional climate and the global environment.
My trip to China in 2009 was my first overseas trip and I was the first international student to study at my institution, where I currently still work. The opportunity was a turning point in my academic career as a scientist. I appreciate the institution's well-equipped laboratory and research environment, the dedicated team spirit to work together, the supportive mentors, scientific and technological cooperation at the international level, and the many funding opportunities to conduct research.
China's current progress is highly notable, particularly its profound socioeconomic changes, the alleviation of poverty, and the development of space-based technology and some of the world's fastest supercomputers. The most important priority I have noticed has been the development of the rural sector. While traveling in rural towns, I have found almost the same facilities we experience
in cities. I have also witnessed the widespread development of agriculture and a year-by-year change in everything from wind and nuclear power to high-speed trains, high-voltage transmission, alternative energy vehicles and clean energy technology.
After my first visit to China, I reentered China in 2016 to work as a research scientist and began to see the benefits of China's development extend beyond its borders through international cooperation. The Belt and Road Initiative is an important and highly beneficial initiative for regional and global cooperation on common issues, scientific exchanges, and strengthening peace and processes for sustainable development.
One of China's successful cooperation programs I have been participating in for more than a decade is the Third Pole Environment (TPE) program. The TPE is an international science program for interdisciplinary study of the Qinghai-Tibet Plateau region, known as the world's Third Pole, and beyond. The program has fostered cooperative relations not only between China and Nepal but also with several other countries in Asia and Europe, as well as the United States.
Scientists from many nations and regions, including Nepal, can benefit from its development. Several categories of China's funding and scholarships are available for foreign students and scholars. The global younger generation can now find many opportunities in China to gain knowledge and improve their academic skills.