New trend stirs cultural interest
【Drink】
Time:2023-05-29 Source:China Daily Views:90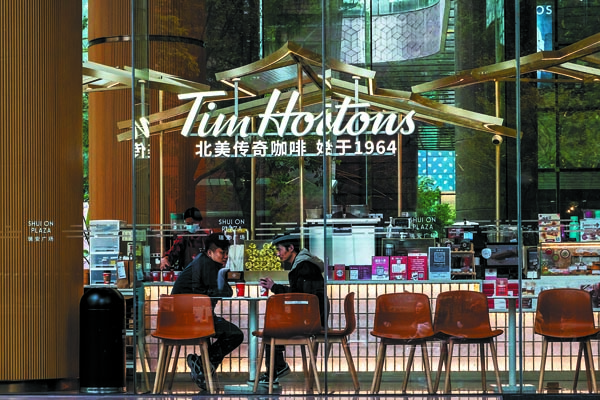 Canadian coffee chain Tim Hortons' outlet at Shui On Plaza in Shanghai. The brand aims to launch localized drinks in the Chinese market.
The popularity of new-style, tea-based beverages provides a gateway for young people to discover traditional Chinese tea customs, Li Yingxue reports.
Blending traditional Chinese tea with coffee has recently become a new trend for purveyors of both beverage types.
From the osmanthus oolong latte by coffee brand Manner, to a coffee drink with jasmine tea launched by Plus In Coffee in Chengdu, Sichuan province, young customers are welcoming the innovative concoctions.
Mixing tea and coffee is not a new thing, as yuenyeung, or yuanyang, which generally consists of brewed coffee and black tea with sugar and milk, has long been a popular refreshment option in Hong Kong.
Yuenyeung refers to a pair of mandarin ducks, one male and one female, and the drink usually combines a harmonious blend of equal parts of coffee and milk tea. The drink has provided inspiration for coffee and tea brands that are developing new products.
As China's coffee and tea markets are both developing quickly, the new drinks have become a window through which young customers can understand and learn about traditional tea culture, breaking the stereotype that "only the middle-aged and elderly drink tea".
During the Spring Festival holiday, 6.4 million cups of tea-based drinks were sold by tea maker Nayuki at its stores across China, with its sales increasing 120 percent year-on-year. Other new-style tea brands including Hey Tea, Lelecha and Chabaidao, all of which also saw increased sales.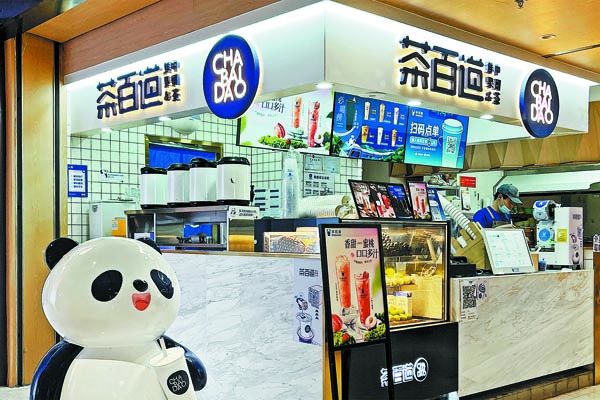 A branch of Chabaidao in Chaoyang district, Beijing. The company combines fresh seasonal fruit with traditional tea.
Domestic and international coffee brands have also been expanding in the past couple of years, with new products continuously being launched that feature Chinese tea or other Chinese cultural elements.
By the end of January, homegrown brand Luckin Coffee had over 8,000 stores in China. Meanwhile, Starbucks currently has over 6,000 branches and its expansion continues, as it plans to reach 9,000 stores by the end of 2025.
From coconut cold brew to milk tea and peach oolong, Canadian coffee chain Tim Hortons aims to launch localized drinks in the Chinese market.
In January, the coffee chain launched its official Chinese name, "Tianhao", to accelerate its localization. Tianhao can mean "the weather is good", which has a poetic implication and is often seen in ancient Chinese poems.
Lu Yongchen, CEO of Tim Hortons China, says, "We have seen the rise of China's coffee consumption market and personally experienced the continuous improvement of the business environment and the government's strong support for business development.
"In the future, we will continue to expand in China," Lu says. With over 500 stores across China as of October, Tim Hortons China aims to expand to 2,750 stores by 2026.
Chabaidao's signature tea drinks, which combine fresh seasonal fruit with traditional tea and milk tea with taro balls, are quite popular among young customers, with the latter accounting for over 270,000 orders during the Lunar New Year holiday.
Zhu Mingxing, director of product research and development of Chabaidao, told Xinhua News Agency that they value the tea base of their drinks, and make sure customers can taste the tea flavor, but without acerbity.
"We have a high standard for the quality of the tea leaves, which is usually influenced by region or weather. We make sure different batches of tea leaves are consistent in shape, color and aroma," Zhu says.
Besides the major tea categories, some niche teas such as Liubaocha, Yashixiang and Baiyaqilan have also found their way to the menus of cafes and new-style tea stores.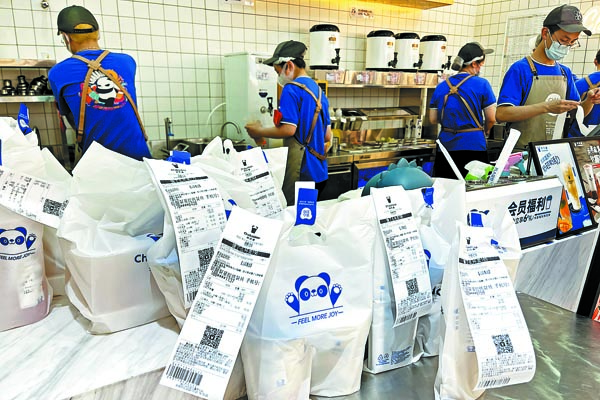 Chabaidao's workers prepare drinks for delivery.
Roots of the drink
A report on the high-quality development of new-style tea drinks in China in 2022, which was released in December by the Tea Research Institute, Chinese Academy of Agricultural Sciences, shows that, last year, the market size of new tea drinks exceeded 290 billion yuan ($42.7 billion), a year-on-year increase of 5.1 percent.
According to the data by iiMedia Research, the scale of China's new-style tea market in 2025 will reach 374.9 billion yuan.
There were around 450,000 new-style tea stores across China in 2022 and a dozen major tea makers, which own over 1,000 stores across the country, such as Mixue Bingcheng, CoCo, Chabaidao and ALittle Tea.
Last year, the new-style tea drink industry purchased over 200,000 metric tons of raw tea material, which directly drove over 10 billion yuan of added value to the primary tea industry.
Jiang Renhua, head of the Tea Research Institute, says a batch of new-style tea beverage brands have rapidly developed in the past couple of years.
He suggests that these brands work on the supply side of the tea industry to push traditional tea drinking to adopt a new direction to fulfill the diversified needs of younger customers.
"Their bold innovation and practice has injected new vitality and added new charm to traditional Chinese tea with innovative products and a fashionable consumption experience," Jiang says.
According to the report, around 47 percent of the post-1990 generation say they now know more about traditional tea as a result of shopping for the new-style tea drinks, while 45 percent know the different categories of tea.
Fifty-five percent say that they feel the charm of Chinese tea culture, while 46 percent say they have a "great interest" in traditional culture.
In November, traditional tea processing techniques and their associated social practices in China were added to UNESCO's representative list of Intangible Cultural Heritage of humanity.
Shen Dongmei, a researcher focused on tea culture from the Chinese Academy of Social Sciences, thinks the successful bid for China's traditional tea processing techniques, and the products associated social practices, will boost both the traditional and new-style tea markets.
For young customers, new tea products can provide opportunities to learn more about tea culture and they may develop a greater interest in traditional tea drinking, especially because there is a trend toward healthier choices, with less sugar and lower calories, Shen says.
Shen thinks that traditional culture can bind well with modern trends. "Young customers are always looking for something new, and through constantly consuming new-style tea drinks, they may want to learn about the history and culture behind the tea," she says.
In Shen's mind, coffee drinking is more about office culture, while tea drinking suits a greater number of scenarios. She notes that it's suitable for both solo and group consumption, and can be drunk lightly or enjoyed for a whole afternoon.
"Tea has more cultural features. Young people enjoying new tea drinks is a reflection of cultural confidence," she says.