Eagle-shaped Pottery Ding
【Archaeology & Relics】
Time:2023-05-16 Source:本站 Views:25
Pottery, out of the earth, has to go through its journey of life. The making of pottery is like the molding of one's personality. Being thrown, rolled, and baked, the clay would become a vessel after these trials and tribulations, thus completing its "nirvana" and turning into numerous different shapes. This eagle-shaped pottery ding (tripod) is one of the most special potteries of ancient China.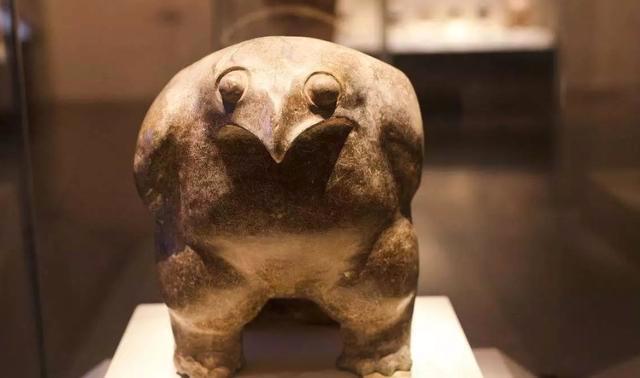 This penguin-like artifact, actually, is an owl. In Chinese, we call it tao ying ding. (pottery ding in an owl shape)
Pottery articles of the Upper Neolithic Age, such as the owl-shaped ding in the picture, about 35.8 cm, the gui (pitcher) of Dawenkou culture, and the hu (flask) in the shape of a sea animal unearthed at Meiyan, are large and stress in terms of both practical use and beauty of shape. The ding in the picture is so shaped that the drooping tail and the two legs of the bird form the three legs of a tripod. The peculiar shape may have had something to do with sacrifice.
The earliest Chinese pottery artifacts were discovered at the sites of the Peiligang and Hemudu cultures of the Lower Neolithic Age (c.5,000-4,000 BC).

And the early Chinese pottery, featuring a great variety of images, such as pigs, pig heads, sheep and human figures, is generally small and of poor workmanship. Some were probably children's toys, while others were sacrificial vessels.