Artifacts exhibition of Wanli era of Ming dynasty grandly opens in Beijing
【Exhibition】
Time:2023-05-12 Source:China Daily Views:104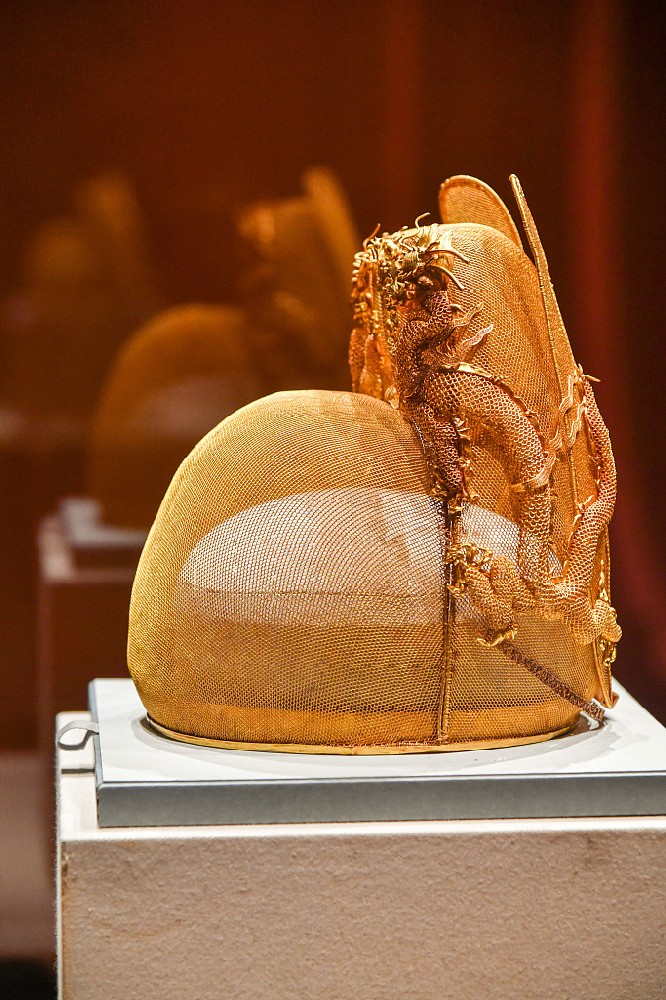 The Wanli Emperor ranks among the most storied rulers in Chinese history. His nearly 48 years in power during the 16th century makes him the longest-reigning emperor in the Ming dynasty (1368-1644). A special exhibition showcasing relics from Wanli's reign opened recently at the National Museum of Classic Books in Beijing.
As visitors enter the exhibition hall, they cannot miss a large blue-and-white porcelain jar, which is the largest exhibit on display. The jar, a burial object, is being shown to the public for the first time.
Wang Yanshu, curator of another organization in Beijing named Art Exhibitions China, said that when the jar was first unearthed, it was full of grease. The sticky substance on its surface was soon identified as beeswax, measuring about 5 to 6 centimeters thick, with oil underneath it.
There was also a wick in the center of the oil, with burn marks at the top, probably due to a lack of oxygen after the tomb was sealed. Experts speculate that this is what people often call an "ever-burning lamp."
"Ancient kings placed ever-burning lamps in tombs, hoping the tombs would be as magnificent as the palaces (they lived in) during their lifetime," said Wang.
At this exhibition, a gold mesh crown has its own display cabinet. The crown, the only extant gold crown once worn by an emperor in China, is one of the most precious relics in the collection. Wang said it was worn by the emperor on informal occasions.
"The gold crown was unearthed from a small round box in the upper right corner of the Wanli Emperor's coffin, so we speculate it may have been his favorite hat."
The most stunning aspect is its craftsmanship. It is made of 852 strands of gold wire, each measuring just 0.2 mm in diameter. All of the strands were braided manually, using a variety of techniques such as wire cutting, wire arranging, and welding.
The crown shows no seams, visible joints or broken threads, marking the epitome of gold craftsmanship during this era. Wang said it might have taken many skilled artisans dozens of years to produce such an exquisite piece of work.
This exhibition brings together 137 exhibits from a number of cultural and historical institutions, covering various categories such as royal gold and silverware, jade, bamboo and woodware, embroidery, calligraphy and painting, and ceramics.
Together, these relics represent the high level of cultural and artistic development as well as the royal and social customs that were practiced during the Wanli era.
The exhibition will run until August 29.