Inheritor dedicated to passing on technique for making colorful lanterns in NW China's Shaanxi
Wang Pufang, an inheritor of the technique for making handmade colorful lanterns from Chang'an district, Xi'an city, northwest China's Shaanxi Province, has devoted her whole life to passing down the traditional craft.
Wang Pufang shows a colorful lantern.
Making colorful lanterns is a Spring Festival custom in Paoli neighborhood of Chang'an district, and has been listed as a provincial-level intangible cultural heritage.
"I have made colorful lanterns every year for the past 70 years to pass on the technique and relive my childhood memories," Wang said.
Wang explained that when she was a child, the older generations in her family produced colorful lanterns during the Spring Festival for children to play with. On the 15th day of the first month of the Chinese lunar calendar, which marks the end of the Spring Festival, the children's lanterns were eventually lit symbolizing prosperity for the year ahead.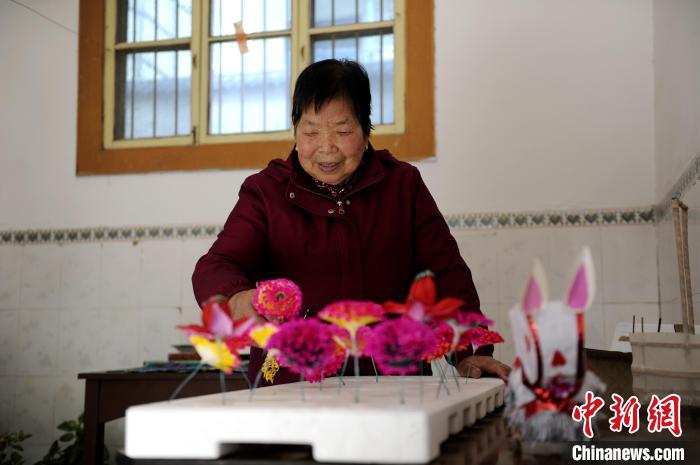 Wang Pufang arranges paper flowers she made.
Wang also makes colorful lanterns for newlyweds in her village to express the wish that they will soon hear the patter of tiny feet and live happier lives. The big smiles on their faces make Wang believe that her years of devotion have been worthwhile.
However, modern lanterns have taken the gloss off Wang's traditional colorful lanterns, and business has not been good.
Wang's children have suggested adding modern elements to her lanterns to boost sales, but she refused.
Wang explained that colorful lanterns represent her generation's memories. "When many elderly people came to buy my colorful lanterns, they recall their childhood memories and share interesting stories with me about their childhood," she added.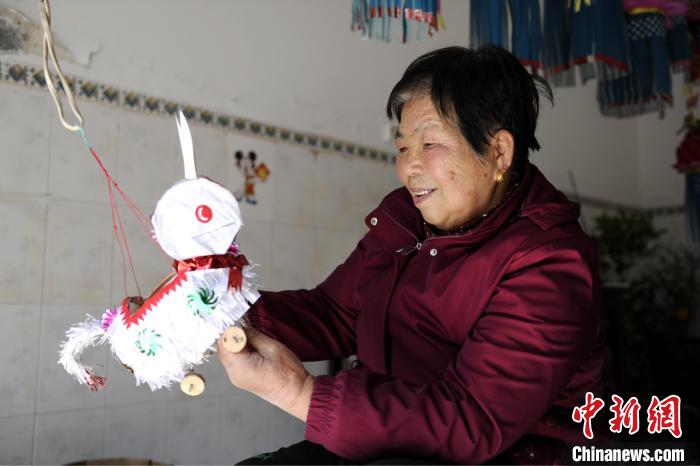 Wang Pufang makes a rabbit-shaped colorful lantern.
For Wang, colorful lanterns are like books that record the customs and what life was like during her childhood.
In order for more people to learn about the craft, Wang continues to sell traditional handmade colorful lanterns and teaches students in schools how to make them, allowing them to feel the unique charm of the intangible cultural heritage.
Time:2023-04-07 admin:China culture Views:117